My Qualifications
I am a fully qualified Therapeutic Counsellor registered with the British Association of Counsellors and Psychotherapists. I work to the BACP code of ethics and undertake regular supervision to ensure that I am practicing within my limits and to my best ability.
I have full professional indemnity insurance.
I have undertaken a huge amount of professional development training to increase my knowledge and skills, including a Diploma in Depression Management and a Diploma in Obsessive Compulsive Disorder.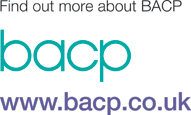 My experience
I have worked in a large college for 7 years, a primary school for 1 year, and a yong people's service for 2 years, so there really isn't much I haven't seen! Issues I have experience working with are -
Abuse
,
Bereavement
,
Domestic violence
,
Self-harm
,
Suicide
,
Depression
,
Anxiety
,
OCD
,
Gender Identity
,
Relationship Issues
, Substance Misuse,
Addictions
,
Pregnancy
,
Abortion
,
Self Identity
,
Sexual Orientation
, Trauma,
PTSD
,
Eating Disorders
,
Anger
,
Confidence
,
Rape
and
Sexual Assault
,
Sexual Health
,
Physical
and
Mental Illness
.
I have worked with people with physical disabilities and learning difficulties/disorders, including Autism and Aspergers.
Considering Counselling?
Before going ahead with Counselling I strongly suggest you have a look on the BACP website to understand exactly what it is all about, what to expect, and how it can benefit you.
All Counsellors work differently and it is very much about getting a good fit for you as well as the right service/price.
During Counselling we will build up a relationship that will enable you to feel safe in exploring your feelings and your situation, possibly like never before. Because our relationship remains professional, you can be sure I am working for you. I like my clients to feel in control of their sessions and able to steer their own direction, I will guide you along the way.
Working Together
I work integratively, which means I draw on different theoretical models of Counselling and Psychotherapy with each client and each issue. Everyone is different, so we will work out together which way of working is best suited to you.
When you first contact me you will be asked to fill in a short Initial Assessment form, this will give me the basic information I need and a chance for you to test the water a little in explaining why you are seeking Counselling. Once I receive your Initial Assessment back I will then send you our contract, a small document which outlines exactly how we agree to work together. Of course you can ask me questions about anything you don't understand at any point and I will explain.
Confidentiality
Counselling is highly confidential, that's how it makes people feel safe enough that they can talk about anything. However, there may be a time where I need to consider breaking confidentiality if you have told me about something that puts you or someone else at serious risk of harm. If this should happen I will always endeavour to take the necessary steps with your consent and involvement.
I keep records of our sessions in accordane with Data Protection law, please be assured they are kept securely and only for the purpose of anonymous monitoring and tracking our work.